Base Carrier Oil - 1 Litre - Grapeseed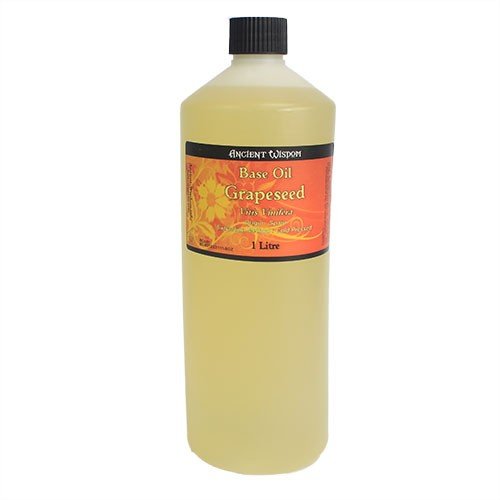 Grapeseed oil is a fairly all-purpose oil, commonly used in aromatherapy, massage and skin care. It has a thin consistency, lighter than coconut or jojoba oil, so acts as an amazingly light-weight moisturiser. It can even be used as a moisturiser for fine hair, by applying a few drops to hair strands before shampooing.
Grapeseed contains more Vitamin E than olive oil, glavonoids like oligomeric procyanidin (good for anti-aging, restoring collagen), inolenic acid, Oleic acid, Omega 3 fatty acids, Omega 6 fatty acids, Omega 9 fatty acids, Palmitic acid, Stearic acid, Vitamin C, Vitamin E. Being high in vitamin C means it has skin lightening properties, and can also help in the reduction of spider veins.
(This oil is also good for cooking as it contains zero cholesterol!)

Color and Smell:  Ranges from clear to yellow to light green. Light, slightly nutty and sweet.
Texture: satin-like.
Packed in 1 litre bottle.
Botanical Name : Vitis Vinifera. Part of Plant Used : Seed. Source : Spain. Extraction Method : Cold Pressed.